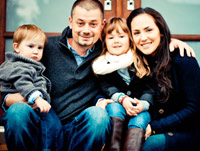 The Jukic Family just won a one week accommodation at the Marriot Ko Olina Beach in Hawaii. Melissa, Petar, Mia and Mate are heading to Hawaii. A great big thank you to Petar and Melissa for all their referrals. Have a wonderful time.
What fabulous Realtors – Melissa and I have given Jennifer and
Lori
several referrals over the past few months and we were very excited to hear that we had won the Referral Program Trip for a 1 week stay at a 4 and half Star Resort in Hawaii! Thank you Jennifer and
Lori
– not only for the week away to Hawaii with our family but also for such wonderful service! Our friends and family appreciate all you do and we sincerely thank you!! The kids are pumped and we are excited to have some time to relax in the sun.