Thank you for your business and your referrals! I could have not done it without you! To thank my clients for their referrals both Sellers and Buyers... names will be entered into a draw for a week in the sunshine.
Next draw to take place September 15th, 2022 - 1 week at San Diego Resort Hotel
2 BEDROOM VILLA
OCTOBER 1-8, 2022
AT RESORT VILLAS BY WELK RESORTS
8600 LAWERENCE WELK DR, ESCONDIDO, CA

 
I look forward to your referrals and GOOD LUCK!
Just fill in the form below
Past Winners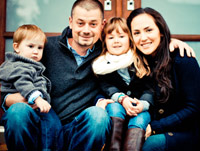 Jukic Family
Congratulations Jukic Family you just won the 1-week accommodation in Hawaii! Melissa, Petar, Mia and Mate are heading to Hawaii. A great big thank you to Petar and Melissa for all their referrals. Have a wonderful time.
I helped them 'Love Where They Live'!
Are you next?